Cosmetics
Wild Pantry does not have any of these in stock. We have the products listed as a courtesy to the owners of these products. If you want to order, please contact the owner. We have personally used one or more of the products offered at the owners listed below and found their products superior to any on the market. Therefore we can highly recommend these products.
In order to comply with USDA food safety regulations, we do not sell nor provide anything containing meat, poultry, canned low acid foods, or dairy products. We sell herbs (plants) for a novelty, religious, or food supplements only. We may list other sites that sell FDA regulated products, but we are not in any way responsible for what others sell.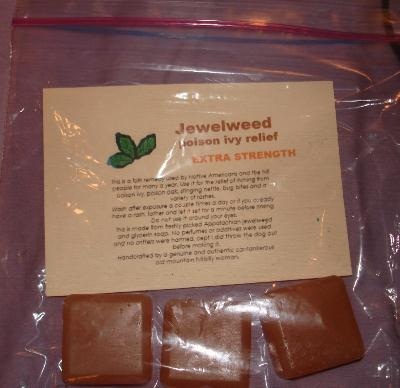 Pure castile jewelweed soap. Email to order.
Herbal and Donkey Milk Soaps
Angelia Silvera, Licensed Esthetician
angie@godsblessingfarm.com

---
Wild Pantry - Mother Nature's Super Store
Please note that prices can change at any time as we update our site when time is available. Please email us if you have any questions regarding prices.
We reserve the right to refuse to supply any company or person for any reason.