Edible Insects
Entomophagy - Insect eating!
Yes, insects as food.
Grasshoppers, crickets, grubs, ants, meal worms...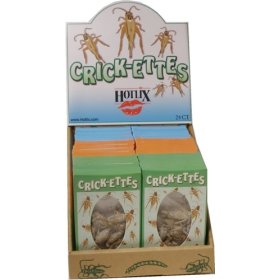 Crick-ettes Seasoned Crickets
Real edible crickets! Original Cricket Snacks in Salt n' Vinegar, Bacon & Cheddar Cheese, and Sour Cream & Onion seasoning. 1.4g box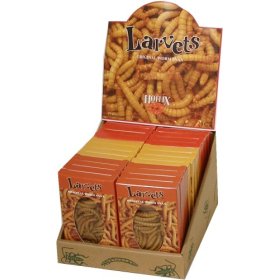 Real edible worms! Original Worm Snacks in BBQ, Cheddar Cheese, and Mexican Spice. Flavored worms for your snacking pleasure. Savor the CRUNCH! Perfect for Fear Factor Parties. 5.6 grams ea.
If you have any questions about our products please give us a call at (423) 261-2039 or email us at your convenience
Please note that prices can change at any time as we update our site when time is available. Please email us if you have any questions regarding prices.
We reserve the right to refuse to supply any company or person for any reason.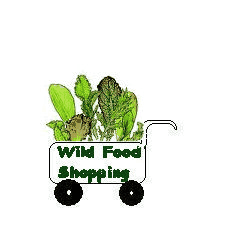 In order to comply with USDA food safety regulations, we do not sell nor provide anything containing meat, poultry, canned low acid foods, or dairy products. We sell herbs (plants) for a novelty, religious, or food supplements only. We may list other sites that sell FDA regulated products, but we are not in any way responsible for what others sell.